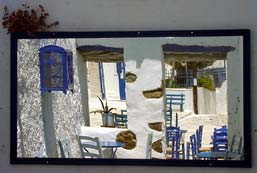 In the summer of 2001, we opened the café, located in one of the loveliest squares in the Cyclades. Stou Stratou literally means
" at Stratos' ": you can join us from late May until the end of September, seven days a week from 10:00 until about 02:00.
Begin your day with breakfast in this calm atmosphere, far from the activity and cars in Livadi. The village will awaken before your eyes as an old man greets you with a pleasant "yassu," or a donkey pauses as it carries a load of building supplies, or as the residents exchange the latest new...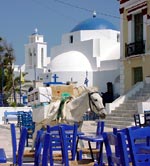 During the hottest hours of the day, we honor the Greek siesta tradition by closing the doors of the café from 14:30 pm until 18:00.

Then, the relaxation of the square awaits you again - in the shade of our patio, tables await you.

The square is reflected here in a large mirror in which you can watch the village activity as you drink coffee or an aperitif while reading the newspaper or playing "tavli."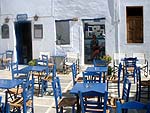 As the sun sets, the square takes on the feel of a stage in which you are both an actor and a spectator. Ochre and red, white and blue, these dominant colors play in a theatre of shade and light, an unforgettable sight.

As the hours wile away, the animation of the square increases. Customers of all ages and many nationalities enjoy the friendly atmosphere and a small plate of mezes accompanied by ouzo or raki.

Conversations, jokes, and laughter mix with the discrete music until the small hours of the morning.